Thursday, April 29, 2010
night out
by
bellefashion
featuring
Matthew Williamson dresses
Posted by

Lauren
at 2:22 PM
No comments:

Monday, April 26, 2010
So, I just finish watching the season finale of
Project Runway
, and as all you know (if you don't know who won and you don't want me to spoil it for you, stop reading this post), the bottom three came down to Mila, Emilio, and Seth Aaron. Personally, Mila's designs were never my favorite but I was glad to see her in the top- she was definitely an interesting person to see during Fashion Week '10. I truly was glad about the out come, with Seth Aaron winning. I kept thinking, from day one, that Emilio would win- I was sure and hopeful he would win until he displayed his collection. I found his collection boring and all too similar. The problem with the runway is that while you want to make your outfits look presentable, wearable, and chic, you also want your pieces to be show stoppers, stunning, and something that really grabs everyone's attention, like art. Runway pieces are for show, though some can go into stores and a lot of runway designs do go into the store. You just have to watch out on how your pieces come across on the runway. I will give Emilio one thing, his last dress was a total show stopper- I loved it! Seth Aaron's pieces always grabbed my attention and kept me intrigued. So all in all the choice between Emilio and Seth Aaron was hard, but with what we saw on the runway, I couldn't agree more with the judges' final decision.
For all the designs from Project Runway from Fashion Week look at this link:
http://www.mylifetime.com/shows/project-runway/rate-the-runway/season-7-episode-14#id=1
Posted by

Lauren
at 7:48 PM
No comments:

Sunday, April 25, 2010
summer beauty
by
bellefashion
featuring
Jimmy Choo shoes
Posted by

Lauren
at 10:13 PM
3 comments:

summer
by
bellefashion
featuring
Ashish dresses
Posted by

Lauren
at 7:29 PM
4 comments:

My currents favorite brands are
Madewell
,
Ralph Lauren Rugby
, and
Free People
- all these brands differ from one another- Rugby is a twist of classic prep with the classic modern, Madewell is a more artsy, modern look, and Free People is a combination of vintage, bohemian, and modern. As a teenager, they are the perfect stores for all my fashion necessities. The current things that are very in right now are at these stores such as blazers, headbands, floral dresses, and more:
This here is an
ALEXA DOESKIN WOOL JACKET
from Rugby for $298.00, I strongly recommend it, it is a perfect summer look with the yellow. The blazer is sophisticated and young.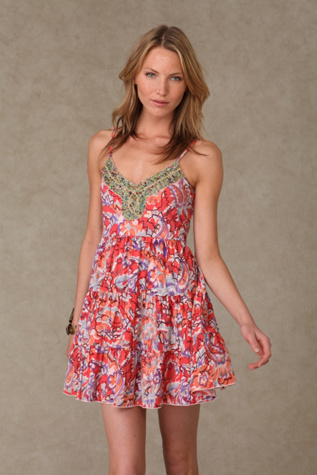 Here is a classic floral dress from Free People called
Western Royalty Dress
that costs $118.00, it is flirty and cute, so really keep a look out for floral dresses like this one because they are one of the hits of the summer and probably will continue into the fall.
Madewell is a perfect place to find great necklaces that are very fun and modern, so I highly suggest that you go find the nearest Madewell near you and find that perfect necklace you have been looking for!
Lastly, headbands, J. Crew is a perfect place for headbands such as the Flower Cluster Headband, $22.50
this is a perfect summer head band and matches and floral dress. J. Crew is definitely a great store for summer shopping.
Posted by

Lauren
at 1:14 PM
No comments:

So yesterday, I was shopping with my friends and we came upon a store, it was one of those store with all the crazy prom dresses. As we came into the store, we began to look around and one of my friends said, "Hey, look, Uggs," they weren't Uggs though. They had a very different feel to them, they we fake sheep skin and the bottoms of the so called 'Uggs' were completely different than the real things. The bad thing was they had the real logo. They were knock off Uggs! They were beyond tacky. So look out and don't buy false products or designer knock offs. The store also had Chanel and Burberry bathing suits and they were very obviously not designer. So always be on the look out for knock offs- don't purchase them, especially if they cost the same as the real deal. If you want something that looks like a certain designer, look for brands that sell things like the item you want. Don't buy a complete knock offs, claiming to be a brand its not.
Posted by

Lauren
at 12:34 PM
1 comment:

Hi, I'm Lauren and I'm here to be giving everyone fashion tips and advice, the best trends, the worst trends, and everything else! I'll be talking about designers and everything! So be excited, I am!
Posted by

Lauren
at 10:17 AM
1 comment: